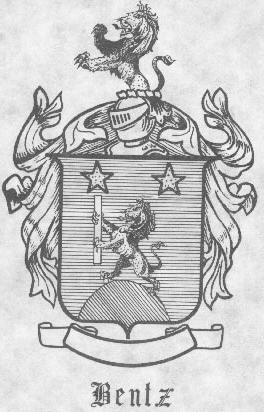 The Bentz Coat of Arms
I am inherently suspicious of Coats of Arms. If everyone who claims to have them now actually had a knight as an ancestor, the late middle ages must have been entirely an armed camp. I would recommend that this coat of arms be considered more for amusement value than anything else. (Of course, someone might well prove me wrong). There are two reasons I include it here. The first is that I have it on hand, and feel that it won't hurt to make it available.
The second is that it may tie to a very similar coat of arms from a what might be a completely different source. This might mean that there is some lurking truth to the thing.
Further Information on This Coat of Arms
The coat of arms on the main page was apparently prepared by an organization called "Halberts", at 3687 Ira Road, Bath, Ohio 44210. It claims that it is a drawing based on information in the volume Rietstap Armorial General, as follows:

D'azur au lion d'or, lamp. de gu., tenant de ses pattees une barre de fer, en pal; ledit lion soutenu d'un tertre de sin. et acc. en chef de deux etoiles d'or

which translates to:

Blue: a gold lion tongue of red, holding in his paws a bar of iron standing on green grass, in upper third two gold stars.

Above the shield and helmet is the Crest which is described as "Le lion, iss.", or "A gold half lion". The same source (Halberts) goes on to say:

Individual surnames originated for the purpose of more specific identification. The four primary sources for second names were: occupation, location, father's name, and personal characteristics. The surname Bentz appears to be related to all four sources in origin, and is believed to be associated with the German's, (sic) meaning "one who tanned bear hides"; "dweller at, or near the sign of the little bear"; and "descendant of Benz", a pet form of "Benedictus (blessed)".

This seems to be so general as to be pretty useless. If anyone has any detail or evidence for this please send it along.
John Bentz's Coat of Arms
In 1997, I visited England, and met with John Bentz. Our exact relationship isn't clear; we reviewed what he knew about his ancestors from Germany. He had a coat of arms, derived from a signet ring that had been passed down to him; I include it below. My scanner couldn't handle the entire image; on the lower left corner is "College of Arms, London", and in the lower right a signature (A Colin Esre - the last name is quite scrawled and unreadable) and the title "Windsor Herald of Arms".
It is worth comparing the two. To me there is at least a similarity, even if the details do not match. I draw no conclusions from this, but it is interesting.
---
Page maintained by Bryan Bentz
Last update: May 12, 1999