Trip Overview
This is an outline of the time I will be with Genevieve, June 1 through June 12, before she begins her stay in the convent. If it seems long it isn't really, it's just that I've tried to include a number of photos to give a sense of what we'll be doing.
Flights
To Rome: Tuesday June 1, 2010, Delta Flight 168
Depart New York (JFK) at 7:15 PM - Terminal 3
Arrive Rome (FC) 10:30 AM (June 2) - Terminal 5
(Bryan) Return to New York: Saturday June 12, 2010, Alitalia Flight 608
Economy/Coach class, seat on check-in
Depart Rome (FCO) 10:25 AM - Terminal 3
Arrive New York (JFK) 2:00 PM - Terminal 1
Trip Schedule Overview
~ June 2010 ~

Sun

Mon

Tue

Wed

Thu

Fri

Sat

1

Depart JFK 7:15 PM

2

Arrive Rome 10:30 AM

Rome: Duke Hotel

3

Rome

Villa Borghese 11:00 AM - 1:00 PM

Rome: Duke Hotel

4

Pick up car

Montecassino

Pozzuoli, Cuma,

Baia

Pozzuoli: Hotel Gli Dei

5

Downtown Naples:

Archaeology, Art Museums

Pizza

Portici: Villa San Gennariello

6

Herculaneum

Pompeii

Oplontis

Sorrento: Minerva Hotel

7

Ferry to Capri

Anacapri

Blue grotto

Capri: Hotel Bella Piccola Marina

8

Ferry back to Sorrento. Pick up car: Amalfi drive to Paestum

Paestum: Il Granareio dei Casabella

9

Drive back to Rome; drop car.

Climb Vesuvius

Rome: Hotel Aventino

10

Rome

Rome: Hotel Aventino

11

Rome

Rome: Hotel Aventino

12

Bryan to Airport, 10:30, Genevieve to convent.

Bryan arrive NY 2:00 PM
Daily Plan
Wednesday June 2, 2010
Arrive and try to recover from jet lag. Possibly visit the Capitoline museum after lunch. Check into the hotel, have a decent dinner, sleep.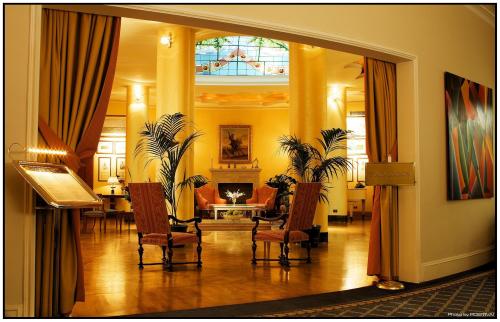 The Duke Hotel
The Duke Hotel: Via Archimede 69, 00197, Rome.
(+39) 06 367221
theduke@thedukehotel.com
Thursday June 3, 2010
Visit the Villa Borghese galleries 11 AM to 1 PM.
Apollo & Daphne at the Villa Borghese
Friday June 4, 2010
Pick up rental car in the Borghese Park at 9 AM.
Drive to the abbey at MonteCassino: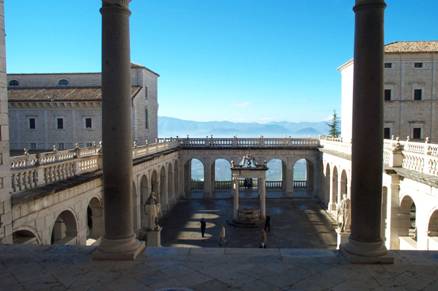 Then continue to the area west of Naples. Driving total time, Rome to Pozzuoli, probably a little over 2 hours: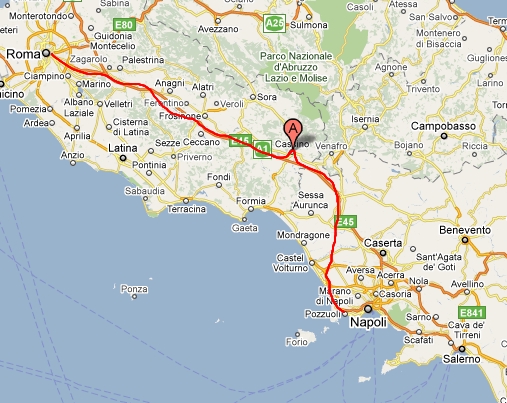 Spend the bulk of the day visiting the Phlaegrean Fields ("burning" fields), a large caldera to the west of Naples:
The area was known to the Greeks, who had a colony nearby at Cumae.

Cumae was the first Greek colony on the mainland of Italy (Magna Graecia) and is perhaps most famous as the seat of the

Cumaean

Sibyl.

The beach of

Miliscola

, in

Bacoli

, was the Roman military academy headquarters.

Lake

Avernus

was believed to be the entrance to the underworld, and is portrayed as such in the

Aeneid

of Virgil. During the civil war between Octavian and Antony, Agrippa tried to turn the lake into a military port, the

Portus

Julius.


Baia

, now lying underwater, was a fashionable coastal resort and was the site of summer villas of Julius Caesar, Nero, and Hadrian (who died there).

At

Baia

, the most ancient hot spring complex was built for the richest Romans. It homed the largest ancient dome in the world before the construction of the Roman Pantheon.

A

Flavian

Amphitheatre (

Amphitheatrum

Flavium

), the third largest Italian amphitheatre after the

Colosseum

and the

Capuan

Amphitheatre.

The Via

Appia

passed through the

com

m

une

of Quarto, entirely built on an extinguished crater.

Europe's youngest mountain[8], Monte

Nuovo

is here. The WWF oasis lies beside the enormous

Astroni

crater.

The tombs of Agrippina the Elder and Scipio

Africanus

are here as well.

Pozzuoli

Cumae: Sibyl grotto

Cumae
Possibly visit these ancient Roman baths: http://www.termestufedinerone.it/en/le-terme.html
Stay at the Hotel Gli Dei in Pozzuoli: Via Coste di Agnano, 21, Pozzuoli, Napoli
+39 081 5263191
| | |
| --- | --- |
| | |
| Hotel Gli Dei pool, view | |
Saturday June 5, 2010
The day entirely in Naples, focusing on two museums: the National Archaeological Museum, with many of the artifacts from Pompeii, Stabiae, and Herculaneum; and the National Museum & Gallery of the Capodimonte, including:
Simone Martini's Coronation
Masaccio's Crucifiction
"The Room":
Luca Signorelli: Adoration of the Child
Perugino: Madonna and Child
Raphael panel
Botticelli: Madonna and Child with Angels
Filippino Lippi: Annunciation and Saints
Another goal: find the best Margherita pizza in Naples.
Drive to Portici, stay at the bed & breakfast Villa San Gennariello:
This will be our starting point for the next day's trip to Herculaneum (Ercolano) and Pompei.
"The Villa San Gennariello is a wonderful eighteenth-century villa surrounded by a lush park with trees, palms and rare plants. This spectacular building, once part of the former Fagianeria Bourbon Royal Palace of Portici, is still the beauty and splendor when Portici was the favorite destination of the Neapolitan nobility of 700."
Villa & gardens, Vesuvius in distance
Sunday June 6, 2010
Visit Herculaneum in the morning; ideally lunch in Pompeii, then the afternoon explore Pompeii.
There is a restaurant in Pompeii, Il Principe, that serves some ancient dishes. I'm not sure they'll be open on the Sunday that we'll be there, or that I can reserve ahead of time (which appears to be necessary for the ancient menu), or that they even do that menu at lunchtime, but if it all works out it would be excellent.
At the end of the day we drive to Sorrento, to stay at the Hotel Minerva.
| | |
| --- | --- |
| | |
| The drive from Pompeii to Sorrento | The hotel Minerva in Sorrento |
Hotel: Hotel Minerva
Via Capo, 30 - 80067 - Sorrento [Na] - Italy - P. IVA 0126 71 21 216
Tel.: +39 081 878 10 11 - Fax: +39 081 878 19 49 - E-mail: minerva@acampora.it
Monday June 7, 2010
Leave the car, take the ferry to Capri.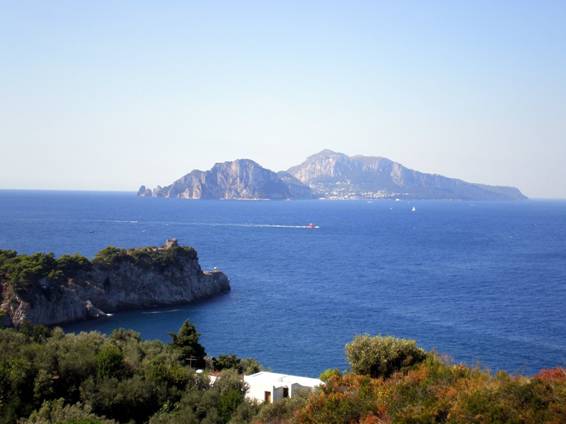 The view from Sorrento towards Capri
Hotel: Hotel Della Piccola Marina, Via Mulo, 14, 80073, Capri
This hotel is recently renovated 4 star hotel, fairly central. I picked it in part so that we could deposit our luggage there and spend the day on the island, and then after staying the night get up and get to the ferry easily the next morning.
This day will be spent exploring Capri, likely including Anacapri, possibly the palace of Tiberius, the Blue Grotto, etc.
Tuesday June 8, 2010
Take the ferry back to Sorrento, and take the Amalfi Drive to Paestum.
Here's a silly short video on driving the road, which can often be 1.5 lanes wide: http://www.youtube.com/watch?v=m9AtjiPxeak
The Greek temples at Paestum
The hotel: Il Granaio dei Casabella (the web link has a little flash movie that shows the hotel from many angles).
The hotel's web site: http://www.ilgranaiodeicasabella.it/inglese/inglese.asp
From another web site:
"Ancient granary just opposite to Temples ruins of Paestum. 14 Rooms with original family furniture. Typical Italian restaurant where discover the taste of Cilento. Magnificent garden to spend relaxing hours. Two reading areas with working fireplaces. Internal parking, local and national shuttle. "
Wednesday June 9, 2010
This is the day we drive back to Rome, with two possible stops. The first is the Vesuvius National Park: we may try to get to the top of the mountain (the rim of the crater).
In the photo above you can see the route to the top. I'm probably more interested in the view out from there, though.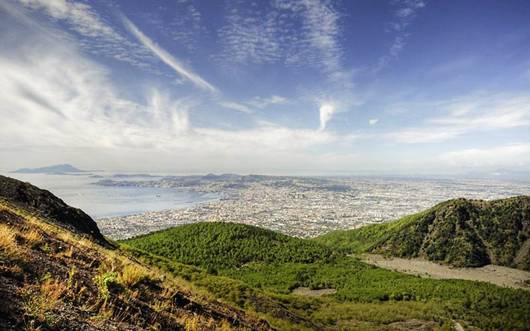 The second stop is a monastery. I had wanted to take Genevieve to the Abbey at MonteCassino when they were doing their 10:30 AM Sunday Mass, which is chanted; unfortunately our schedule just wouldn't allow it. However, there is another monastery not far from Rome which does all it's Masses in Gregorian Chant - if we can time it right I would like to be there for one.

"The monks of Casamari celebrate all their liturgy in Gregorian chant. Weekdays: Morning Prayer, at 6.00, Mass, 7:30 am; Sixth, at 12.45, Nin, 16.00; Vespers, at 19.15. Public holidays: 8.00 am Morning Prayer, Mass 11:00 am; Eventide 16.00 (17.00 during daylight saving). In the area of Veroli, 9 km from the center, on the way Mary - also easily accessible from the Frosinone-Sora - stands the abbey of Casamari. It was built on the ruins of the ancient Roman town Cereatae called because dedicated to the goddess Ceres. Casamari The name comes from Latin and means "House of John", home of the Roman consul Gaius Marius, the famous leader, enemy of Sulla."
We will return to Rome, drop the car, and go to our hotel on the Aventine Hill, not far from the convent where Gen will be staying:
Hotel: Hotel Aventino - Via San Domenico, 10
Tel. +39 06 570057 - - Fax +39 06 5783604
e-mail: info@aventinohotels.com - http://www.aventinohotels.com
[docs printed]
Thursday June 10, 2010
The next two days are just to relax and explore Rome. I'd like to show Genevieve a few of my favorite spots, not ones she'd be likely to explore herself.
Hotel: Hotel Aventino
Friday June 11, 2010
Hotel: Hotel Aventino
Saturday June 12, 2010
Bryan to airport for flight back to US. Flight leaves Rome (FCO) at 10:25 AM.
Genevieve to the convent :
Villa Rosa
Via Terme Deciane 5
00153 Rome
Restaurants
This is not my complete list, just a few I'd like to make sure Genevieve gets to.
1. Ristorante San Teodoro – behind Roman Forum; great fish
Restaurant St. Teodoro is located in the heart of Imperial Rome, between the Palatine and the Mouth of Truth. Suggests simplicity and elegance in the furnishings. In summer, the garden allows you to live a 'unique atmosphere, as has an ideal location for both' historical monuments, and for the tranquility of 'area free of traffic. The service is attentive and carried out carefully so that the guests are greeted by staff with grace and courtesy, so you can enjoy in a framework of peace proposals suggested by the chef. You will find in addition to classical Roman cuisine a wide range of fish exclusively selected.
2. Da Fortunatao
Via del Pantheon, 55
06 6792788
Kind of across from the Vatican about halfway through the Campus Martius
Closed Sunday
wonderful experience -- right out of an old movie with white-jacketed waiters and lots of linen and silver -- traditional but not without surprises, like the gnocci in octopus sauce. a great place to eat outside and watch the steady parade of folks around the Pantheon as well.
Frequented by politicians, this is where you should try authentic Roman cuisine. Spaghetti alle vongole (clams), gnochetti al gorgonzola, pasta and lentils and fresh fish are fixed items on the menu. The seasonal mushroom dishes must be tried to be believed. Superb service. Good selection of wines.
3. Alfredo all Scrofa - original Fettucine Alfredo restaurant
Via della Scrofa 104
(Near Piazza Navona/Pantheon)
06-68806163
4. Ambasciata d'Abruzzo
Via Pietro Tacchini, 26 (Parioli)
06-8078256